Event Support Night Sky Lanterns Fest
Night Sky Lanterns® Fest
A unique and spectacular display of lanterns flying in to the night sky
Night Sky Lanterns® Fest is the one and only event where the audience becomes the protagonist
With our expertise and passion for sky lanterns we have turned the night sky of millions of people in to a magical, unforgettable and emotional experience. With the supervision of our trained personnel, the public will be the protagonist in the launch of spectacular displays of hundreds or thousands of lanterns that illuminate the immensity of the night sky with lanterns themed for the event. The paper of our sky lanterns can also be customised with a message, brand logo or a digital photo to create a unique spectacle every time. Night Sky Lanterns® Fest can be hosted to promote new businesses, corporate events and charities fundraising, festivals, concerts and fashion catwalks, sport events, weddings and birthdays, private parties and festivities, religious traditions and memorials, white/pink/red nights and film movie production.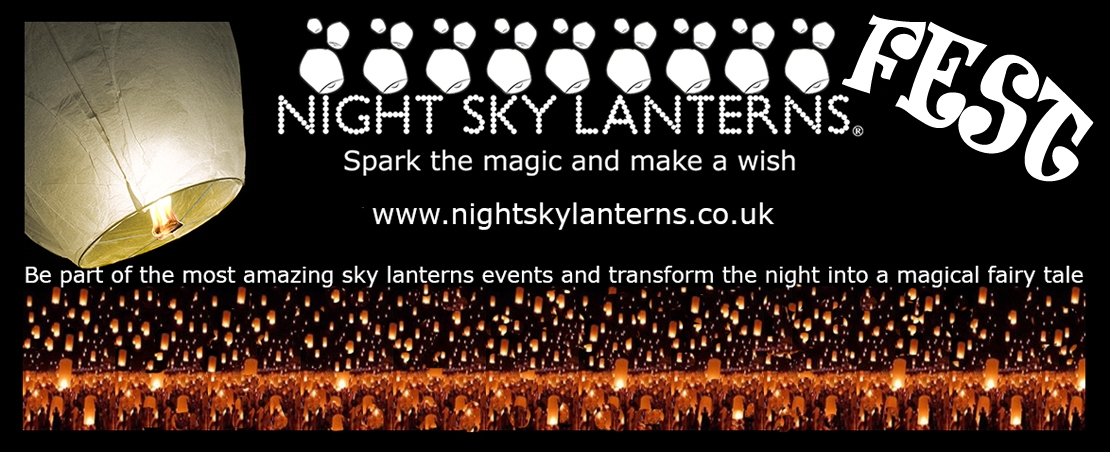 Amazing Night Sky Lanterns Fest in United Kingdom and around the World
This fantastic Night Sky Lanterns Fest can be hosted throughout the UK or anywhere we are invited to host a show, whether abroad, on a cruiser or at the North Pole. We will take care of the entire preparation and promotion of the event, including the identification of the most suitable site according to the number of participants/lanterns, and where necessary we will also request the authorizations from the Authorities, such as the local Council, Aviation and Coastguard Authorities, so that everything occurs in safety and with great fun. The launch will be supervised and coordinated by our instructor/s and trained staff, who before authorising the synchronised launch, they will have assessed that the actual meteorological situation is suitable for the sky lanterns to take-off and confirm that air space is clear from aviation traffic. Once all possible risks have been assessed, our instructor will do a practical demonstration to the public and to the participants involved in the execution of synchronised take-off of hundreds or thousands of lanterns all at the same time. In addition, we will promote the event through our communication channels, to give maximal exposure to our followers and sky lanterns lovers and ensure that there are a greater number of attendances of spectators and participants at the event. If required we can also provide a sound system according to the size of the event which will accompany the show with music and symphonies to enhance this magical experience.
To ensure maximum reliability, we only use our branded Night Sky Lanterns® premium quality or above which are made with high quality materials to guarantee an excellent result every event. CE registered products, conform to European standards and UK Code of Practice - Sky Lanterns - issued by the Trading Standards Institute.
Thick and non-flammable paper - 100% biodegradable & wire free - Eco-Friendly - Non-toxic & Odour free – Non-drip and Easy to light fuel cell - Pre-assembled and individually wrapped – Up to 20+ minutes flying time
Spectacular
Night Sky Lanterns® Fest
in your city
If you are interested to host our show in your Town/City which will amaze all spectators, then you're in right place.
For further information or to discuss the details of the event, please contact us with the information required below and we will prepare a personalised and detailed proposal for your evaluation.
To assess all risk factors associated with your event we need the following information:
Location (full address or name of the reception, villa, park, or beach )
Number of Participants / Guests or number of lanterns.
For events like Concerts, Festivals, Film/Music Movie Production, Charity Fundraising event, Religious Celebration, Businesses/Corporate Event, Fashion Catwalk, Sport Event or for Public Town Festal, etc.,
please also give us additional information regarding your event including links to web pages, facebook, twitter and other social networks to assess the potential exposure of your event and better estimate the number of the participants/audiences.
Fill in the form on contact us page and we will be happy to assist you and discuss futher our Operational Proposal for the Night Sky Lanterns® Fest.
Interested in getting involved with Night Sky Lanterns Fest?
If you are interested to get involved and participate to any future fest, we'd love your help and support.
No matter in which country or city or village you live in, our show could be hosted near you and we want to let you know as soon as new fantastic opportunities arise and how to get involved.
Anyone can attend our lanterns fest without any age limits, however to subscribe and register your interest you must be 18 or over or authorised by an adult. No experience required.
Please email contact us with the following information (* Required)
6) Subject* (write here one or more interest from the list below)
7) Promoter Number (please tell us how did you find us)
8) CV in pdf file (Optional)
9) Your Message/Comment (Optional)
List of interests: (**CV Required)
- Synchronised Launch Participant
- Trained Staff / Event Assistant**
- Promoter / Collaborator**
- Photographer / Editor / Writer**
- Singer / Musician / DJ**
- Female-Male Model / Actor / Hostess**
Your information will be strictly used to send you updates on new opportunities and we will not disclose any information with third party companies.
Dates of the Night Sky Lanterns Show in UK and abroad
Spark the magic Night with our Sky Lanterns and make a wish!
16/07/2015 Moena (Trento) Italy
Night Sky Lanterns Show at the Fairy's Night in the Alps - Wishing good luck to the Italian football team Fiorentina for the 2015 Champion league at 23:00 in collaboration with nonsololanterne.com
23/12/2014 Terlizzi (Bari) Italy
Release your lantern and make a wish this Christmas" Night Sky Lanterns Show collective Launch of the wishing lanterns in collaboration with nonsololanterne.com approx. 23:00
23/11/2014 Bruino (Torino) Italy
We invite you to YOUR PARTY! Sunday, November 23, 2014 We will meet from 15 :00 at Peace Square in Bruino (To) (Market Square) for the launch of the wishing lanterns in association with unacarrozzinapergiulietta and with the collaboration of nonsololanterne.com
15/10/2014 Muro Lucano (Potenza) Italy
2014 Edition of the "Night of Light", a show of lights, sounds, music and dance in one prayer dedicated to St. Gerardo Majella.
27/09/2014 San Marino (Republic of San Marino)
RSM "Federazione Sammarinese Sport Special" Event free for everyone - Night Sky Lanterns Show We wish your dream come true
Night Sky Lanterns® Show at the Royal Wedding of Prince Lorenzo De Medici and Rosemary Johnson - We hope your dreams come true soon! - in collaboration with nonsololanterne.com
07/09/2014 Mantignana (Perugia) Italy
Festival of Chicken all'arrabiata" Come to make your wish! 23:00 approx.
09/06/2014 Golf Club Monticello, Cassina Rizzardi (Como), Italy
Forever in Love - 50Th Wedding Aniversary of Christine and George
Night Sky Lanterns supplied for the Italian Film - The most beautiful school in the world – "La Scuola piú bella del Mondo with Christian De Sica and Rocco Papaleo" – Directed by Luca Miniero
21/12/2012 Cisternino (Brindisi) Italy
Open City "a new beginning is possible" synchronized launch of flying lanterns at 0:00.
12/09/2012 Misano (Rimini) Emilia Romangna Italy
Event NON-PROFIT Organised in collaboration with: ADA NGO & CATTOLICA PER LA TANZANIA, MUNICIPALITY OF MISANO, and MISANO EVENTS
16/08/2012 Cattolica (Rimini) Emilia Romagna Italy
Event NON-PROFIT Organised in collaboration with: ADA NGO & CATTOLICA PER LA TANZANIA ( Page dedicated )
10/07/2012 Molfetta Bari Puglia Italy (Private Event)
08/07/2012 Milan Lombardy Italy (Private Event)
29/06/2012 Rome Lazio Italy (Private Event)
29/04/2012 Ruvo di Puglia (Bari) Puglia Italy (Private Event)
14/04/2012 Siena Tuscany Italy (Private Event)
24/12/2011 South Norwood, London United Kingdom (Private Event)
18/11/2011 St. Maria di Leuca (LE) Apulia Italy (Private Event)
30/10/2011 Latin (RM) Lazio Italy (Private Event)
16/10/2011 Legnano (MI) Lombardia Italy (Private Event)
09/10/2011 Empoli (FI) Tuscany Italy (Private Event)
09/10/2011 (MN) Lombardy (Private Event)
24/09/2011 Trani (BAT) Apulia Italy - Event Sponsored by DGL Energy Ltd
18/09/2011 Chieti Abruzzo Italy (Private Event)
18/092011 Tertenia (OG) Sardinia Italy (Private Event)
06/06/2011 Belgrad, Serbia (Private Event)