12 Waterproof LED Lights White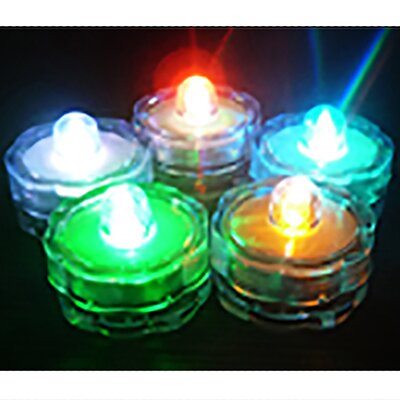 Brand: Generic Product
Product Code: WLEDLW12
Immediate availability

Quantity Discount available

Waterproof LED Lights White
Waterproof LED Lights are ideal to use in ponds, fountains or swimming pools
These waterproof LED lights battery powered are perfect to create a suggestive atmosphere in wet enviroments or to light up ponds, fountains, swimming pools and boats. No heat, no flames and smoke are produced by these LED lights and they can be used on water as well as regular tea-lights.
Each LED light is very easy to use, pre-assemble and powered with two CR2032 batteries included. The LED light produce a bright white light, particularly useful with Water Floating Lanterns, Candle Bags, Puzzle Lamp Shades and Hanging Lanterns even if it is raining. These waterproof LED Lights can be used indoor as well as outdoor and the two batteries will last approx. 50 hours and they can be easily substituted with new batteries to re-use them for many times. The power saving LED bulb is set to avoid overheating even though it is constantly in use for long time.
Instruction - How to use Waterproof LED Lights:
Waterproof LED Lights are powered by two CR2032 batteries and they are ready to use. To activate the battery, remove the plastic protection sheet by unscrewing the top part to access the batteries. Once the battery has been activated, simply screw back the top part all the way to turn on the light and it will also seal the case to protect the batteries when used in water or submersed. To switch off the light, just unscrew the top part until the light goes off. Remove the batteries when not used for a long time or use the plastic protection disk to safely store them in a dry place until next event.
Waterproof LED Lights White - Pack of 12
LED Light: Waterproof




LED Colour: Bright White




Power Source: 2 x CR2032 Battery




Case Colour: Semi-transparent Plastic




Light Dimensions: 3 D x 3 H cm (1 x 1 Inch)




Pack size: 9 W x 4 L x 23 H (3.5 x 1.5 x 9 Inch)




Pack Gross Weight: ± 160 grams




Product Code: WLEDLW12