20 Premium Sky Lanterns White Eco Friendly
Sky Lanterns
Brand: Night Sky Lanterns®
Design: 100% Biodegradable - Wire Free - Asbestos Free
Product Code: PSLW20

Immediate availability

Quantity Discount available

Eco Friendly Premium
Sky Lanterns for an ethical W
edding, Birthday or any special nights
Premium Sky Lanterns white are ideal to celebrate ethically any special event like weddings, birthdays, memorials and fundraising events.
These Eco Friendly Sky Lanterns are made with
17
gm
2
fireproof paper, bamboo ring, no metal parts, asbestos free and they are truly 100% biodegradable.
This improved design is equipped with an innovative fuel cell made of cloth / fabric which after burning the combustible, it will crumbles in air before the lanterns start descending. This new heat source cell makes easier to ignite and it is more powerful compared to fuel cells made of cardboard, which requires longer time from lighting to launch the lantern.
This design, combined with the fireproof paper treated with flame retardant agent makes these sky lanterns the most popular and easy to use compared to other Traditional Chinese Lanterns.
In addition, these Premium Sky Lanterns are pre-assembled, ready to use, equipped with a non-drip fuel cell and each lantern is individually packed with fully illustrated instructions on how to safely launch it in to the sky.
Eco Friendly, No Metal Parts, Asbestos Free, Fireproof Paper, Pre-attached Fuel Cell, Fully Biodegradable, Compostable and Recyclable.
These Sky Lanterns are manufactured to the highest standard and should not be confused with cheaper and poorly made imitations.
#PremiumSkyLanterns fully comply with DEFRA's report " The Code Of Practice - Sky Lanterns " published in 2014 by Trading Standards Institute #TSI
We are appealing to all responsible people who choose wisely eco friendly sky lanterns, click on the link above and share it with your friends and family before all sky lanterns are banned forever.
Many thanks to everyone for supporting our campaign!
Premium Sky Lanterns are built by professional craftsmen who assemble each lantern with precision to ensure an excellent flight performance.
This Sky Lanterns are made with
17 gm
2
copy paper coated with a fire retardant, which helps to retain more heat inside the lantern and consequently facilitates the preparation and its performance.
The fuel cell is made of cloth and paper soaked in combustible which is easier to lit and produces greater heat power.
The paper used for these lanterns has been treated with a flame retardant which avoids catching fire like a page of newspaper.
Each lantern is pre-assembled, individually wrapped in transparent OPP bag with a Euro ring for resellers.
The silica gel bag included in each lantern helps to absorb any residual moisture and ensure the integrity of the product in the long term.
The fuel cell is protected by a waterproof film to prevent loss of combustible while in storage and pre-attached to the bamboo ring with a fireproof string made of fibreglass. All materials are 100% biodegradable.
The innovative fuel cell ensure that when all combustible has burned out and starts to cool down, it will crumble / disintegrate in the air while the sky lantern still floating in the sky and it will gently descending back to earth.
The delicate paper will break down in few days after landing back on earth and mostly eaten by snails and slugs. The remaining bamboo ring will biodegrade as fast as an oak leaf or any tree stick, while the fibreglass string will disintegrate and it is safe for wildlife, livestock and farmers' machineries.
Premium quality sky lanterns can be disposed in the compost or recycled according to the local Council directives. We are appealing in particular to Charities organisations and event organisers planning of releasing a large number of sky lanterns in a synchronised launch, to collect all or most of the sky lanterns landed few miles away from the point of launch.
Premium Sky Lanterns, as well as Supreme Sky Lanterns do not contain any toxic substances or metal wire which could cause inconveniences to farmers and their livestock.
These lanterns are made with high quality materials to improve flying performance and ensure a unique and unforgettable experience, though safeguarding the environment and other people's property.
Each lantern contains a colour insert with simple but fundamental instructions to get a spectacular result.
Each Premium Sky Lanterns is handmade and the dimensions may vary slightly.
The lantern size when unfolded in an oval shape is 70cm-28In Height and 40cm-16In wide.
Each transparent OPP bag contains:
1 x Pre-assembled cloth/paper fuel cell
1 x colour insert with instructions and barcode
Made with copy paper coated with flame retardant - Bamboo ring - 100% biodegradable & wire free - Eco-Friendly - Non-toxic & odour free – Certified No Asbestos Detected – Cloth fuel cell, easy to light and no drips - Pre-assembled and individually wrapped for protection in transparent bag with Euro ring - Gross Weight ±90 grams - Brand Night Sky Lanterns ®
All customer's names of Premium Sky Lanterns will be added to our supporters list published on our blog
Instructions - How to use:
Premium Sky Lanterns are individually packed, pre-assemble and ready to use. Simply open the lanterns swing it in the air to unfold all sides and lit the fuel cell with a regular lighter. Full Instruction are written on the insert of each lantern.
PRODUCT DETAILS
Night Sky Lanterns ® Premium Sky Lanterns
The photo below shows a Premium Sky Lantern unfolded and laid flat. To write a message on the lantern
only
use dry permanent marker with a thick head. Do not use sharp pencils or pens and be careful not to rip the delicate paper while drawing.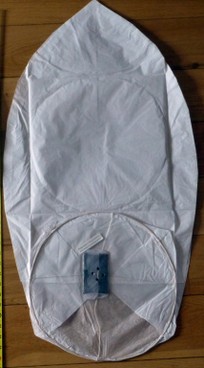 T
he fuel cell is covered with protective sheet to avoid that the combustible migrate to the paper of the lantern. Please remove the protective sheet before igniting the corners of the fuel cell.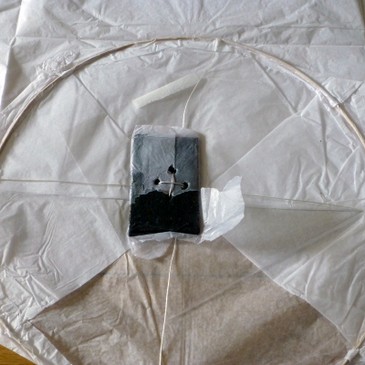 Before lighting the fuel cell, bend two opposite corners of the fuel cell and lit both corners with a lighter. Wait untill you feel that the lanterns is pulling up and gently release the pressure of your fingers from the bamboo ring. The lanterns will start flying away in to the sky. Please read the instruction provided on the packaging prior to use it.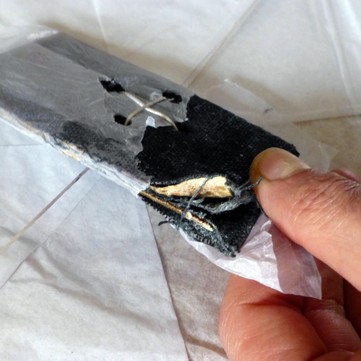 We would like to highlight that
Traditional Chinese Sky Lanterns
like those used in this video are made with metal wire to hold the fuel cell to the bamboo ring.
Please consider the possibility to use only sky lanterns made without metal wire.
Please Please Please! Help us to better safeguard the environment, wildlife and livestock.
20 Premium Sky Lanterns White Eco Friendly
Sky Lantern: Premium

- Pack of 20

Materials: 17gm2 Fireproof Paper

, Bamboo Ring, Fibreglass String and Cloth Fuel Cell

Paper Colour: White

Lantern size unfolded: 45 D x 70 H cm (18 x 36 Inch)

Pack size: 42 W x 42 L x 13 H cm (16 x 16 x 4.5 Inch)

Pack Gross Weight: ± 2.7 Kg

Brand: Night Sky Lanterns®

Product Code: PSLW20