100 Custom Candle Bags Medium Monocolour Print
Paper Luminary Candle Bags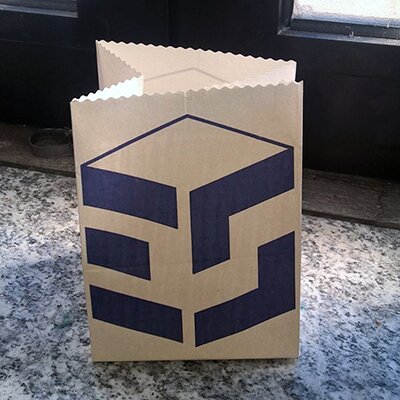 Brand: CandleBagsUK™
Product Code: BPCBMMP
This product is unavailable.
Bespoke Luminary Candle Bags
Medium
Monocolour Print
Add your magic touch on luminary candle bags for a unique event
We can customize most candle bag designs with a logo or artwork in mono-colours directly printed on one or two sides of each luminary bag. We aim to deliver all orders as soon as possible. Bespoke work may require longer production time during busy seasons. Approx. delivery time 1-3 weeks.
Bespoke candle bags are ideal to add your own logo or artwork to enhance the look of your event. We can customize most of the existing pre-cut designs and plain candle bags (Large, Medium or Small) with Mono-Colour print.
Luminary bags can be customised with your logo, photo or words printed on the sides of each bag and they make a real impression at your dinner party, barbeque or social gathering and memorials.
Unlike luminary bags made with 70 gsm (g/m²) paper grade, these bags can be used outside and they stand up well even in humid environment, making a real impression at your dinner party, barbeque, social gathering or memorials. The light of
Wax Candles
or
LED Tea-Lights
placed inside the bag produces a beautiful soft glow and creates a very special ambience and making a superb addition to any summer garden party and they are great for relaxing in your garden in the twilight hours.
These high quality Candle Bags can be also used for promotional campaigns as paper carry bags for reasonable medium/small items.
For bulk orders please contact us.
How to use:
Open the paper bags by inserting your fingers inside from the top and straight the folds. To keep the bags open is preferable to put 2-3 cm of sand or gravel inside each candle bag. This also ensures that the candle bags stay firm on the hard surface and they will not be blown away by the wind if used outdoor. If used indoor, it is preferable to use washed gravels, small pebbles or small crystal diamonds before placing the tea-light inside the bag. These paper bags are well glued so they can be prepared on the table and they will not spill anything when they are carried and distributed around the house or outside in the garden.
Please Note: Under the base of each luminary bag we apply a discreet stamp to approve our 3rd quality inspection of each bag.
CandleBagsUK™ Bespoke Luminary Candle Bags Medium Monocolour Print
Luminary Design: Bespoke Luminary Candle Bags Medium Monocolour Print

Print size: Max 9 W x 12 H cm

Material: Fire-proof Paper

Paper Grade (g/m²): 90 gsm

Paper Colour: White

Size: 10 W x 10 L x 13 H cm

Pack Gross Weight: ± 8 grams

Brand: CandleBagsUK™

Barcode: 5060207701556MMP

Product Code: BPCBMMP