Personalised Large Candle Bags
Paper Luminary Candle Bags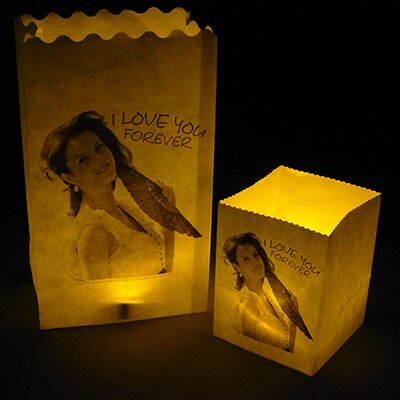 Brand: Candle Bags UK™
Product Code: PLCB
Immediate availability

Personalised Large Candle Bags
Add your magic touch on candle bags for a unique style

We can personalise candle bags with any digital photo, artwork or portrait in multi-colours or black and white, directly printed on the paper of one or more sides of each luminary bag.
How to order personalised candle bags:
After adding
the desired quantity of personalised candle bags
to the cart, please proceed with the order and enter your personal details. In the section "File attachment", click on "Choose file" and select the photo to be printed on the candle bags. If you wish to include a text message, you can use the section "Note" to include the text to include with your photo. Proceed with the order and once we have received it, we will create three artworks with your photo and text which will be emailed to you to approve the one you prefer.
We aim to deliver all orders as soon as possible. Approx. delivery time 1-3 weeks, according to the season and quantity ordered.
We personalise with digital print our large plain candle bags, but we can also print most of the existing pre-cut designs. Please
contact us
if you would like to personalise a different candle bag.
Candle bags can be personalised with your logo, photo/text or just with text printed on the sides of each bag and they make a real impression at your romantic dinner, party, barbeque,
promotional campaigns, fundraising events,
memorials
or any other social gathering
.
Unlike candle bags made with 70 gsm (g/m²) paper grade, these bags are made with 9
0 gsm (g/m²) paper grade and they
can be used outdoor. They are suitable to use in humid environment, making a real impression at your party or memorials. The light of
Wax Tealights/Candles
or
LED Tea-Lights
placed inside the bag produces a beautiful soft glow and creates a very special ambience, making a superb addition to any summer garden party and they are great for relaxing in your garden in the twilight hours.
How to use Candle Bags:
Open the paper bags by inserting your fingers inside the bag from the top and straight the folds.
To keep the bags open is preferable to put 2-3 cm of sand or gravel inside each candle bag. This also ensures that the candle bags stay firm on the hard surface and they will not be blown away by the wind when used outdoor. If used indoor, it is preferable to use washed gravels, small pebbles or small crystal diamonds before placing the tea-light inside the bag. These paper bags are well glued, so they can be prepared on the table and they will not spill anything when they are carried and distributed around the house or outside in the garden.
Suggested Wax Tealights 2h, 4h, 9h or Pillar Candles. For indoor use, it is preferable to use LED Tea-Lights.
Please Note: Under the base of each candle bag, we apply a discreet stamp (CANDLE BAGS UK) to approve our 3rd quality inspection of each bag.
Candle Bags UK™ Personalised Large Candle Bags
Candle Bag Design: Large size plain bag with Digital Print
Print size: Max 15 W x 25 H cm
Material: Fire-proof Paper
Paper Grade (g/m²): 90 gsm
Paper Colour: White
Candle Bag Size: 16 W x 9 L x 26 H cm
Gross Weight: ± 15 grams
Brand: Candle Bags UK™
Product Code: PLCB
Suggested Products
Other people also looked these products