Water Floating Lanterns Lily Flower White
Water Floating Lanterns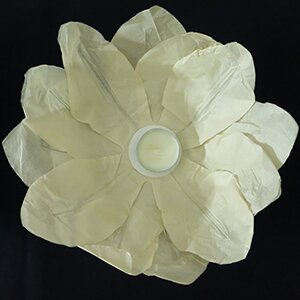 Brand: CandleBagsUK™
Barcode: 5060207701358
Product Code: WLFLW1


This product is unavailable.
Water Lily Floating Lanterns W
hite
- Pack of 1
Water
Floating
Lanterns create a stunning effect on water or on hard surfaces
Floating Water Lanterns create an ambient lighting effect and relaxing atmosphere and can be used on water or alternatively on any firm surface. Our Water Lilly Floating Flower Lanterns have 12 petals and are available in White, Red, Pink and Turquoise. The Tea Lights last for up to two hours and it can be replaced, meaning that these flower lanterns are completely reusable. These floating lanterns are perfect for decorate any event like a wedding, baby shower or for creating a soft glow for a romantic dinner in the garden. Water Lily Flowers are made of paper, cardboard, wire and includes 2h wax tea-lights and they can be used on water or on hard surfaces like on table as centrepiece. In alternative to wax tea-lights for all water floating lanterns, in particular for long lasting events, it is preferable to use water-proof LED tea-lights.
The light of
Wax Candles
or
Water-proof LED Tea-Lights
placed in the middle of the flower produces a beautiful soft glow and creates a very special ambience, making a superb addition to any summer garden party and they are great for relaxing in your garden in the twilight hours.
Instruction - How to use:
Each flower has 12 petals and individually flat packed in a plastic bag. Take out the folded flower and open each petal and with your hands shape the wire placed in the middle of each petal and shape them to look like a Water Lily Flower. Light up the wax tea-light and place it in the middle of the flower before releasing it on the water. If you are using them in swimming pool, it is preferable to switch off the filters pumps to avoid that all flowers float toward one side of the pool. Water Lily floating lanterns are very stable on water and unlike Flower Lanterns, they are build with a solid 1.5 cm cardboard base which ensure that the petals remain dry while floating on water.
These floating lanterns can be reused several times. After the event, place the flower lanterns in a dry place like a garage or shed for one or two days until completely dry before folding back the petals and putting each flower lantern back in its plastic bags for better protection while in storage. They are made with 100% biodegradable materials and they can be fully recycled or can be disposed in the composter.
Water Lily Floating Flower Lanterns White - Pack of 1
Floating Lanterns:

Water Lily

Material: Paper, Cardboard and wire

Flower Colour: White




Size flat packed: 11 W x 11 L x 2.5 H cm

Size unfolded: 20 D x 10 H cm

Pack Gross Weight: ± 35 grams




Brand: CandleBagsUK™




Barcode:

5060207701358




Product Code: WLFLW1