20 Traditional Chinese Sky Lanterns v7 White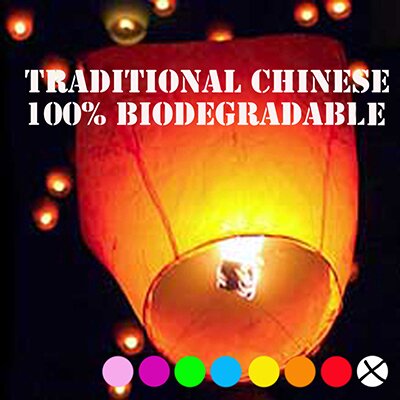 Brand: Generic Product
Design: 100% Biodegradable - Asbestos Free
Product Code: CSLV7W20
This product is unavailable.

Traditional Chinese Sky Lanterns v7 White - Pack of 20
These
Traditional
Sky Lanterns
are
made with high quality materials and
individually
packed to protect the delicate paper.
Chinese sky lanterns v7 are made with flame retardant rice paper 14 g/m2, the wick / fuel cell is made with cardboard, which is supported by the bamboo ring with metal wire.
Traditional Sky Lanterns v7 are handcrafted using rice paper treated with retardant, which avoids catching fire like a page of newspaper.
Each lantern is individually wrapped in transparent OPP bag.
The wick / fuel cell needs to be attached at the centre of the metal wire cross before lighting it.
All materials are 100% biodegradable and
recyclable
. When the combustible has burned out, the lanterns will gently start descending back on earth. The delicate paper will break down in few days after landing and mostly eaten by snails and slugs. The remaining bamboo ring, biodegrade as fast as an Oak leaf or any tree stick. However, please consider the impact of the metal wire on the environment, wildlife and livestock, which requires longer time to rust. Besides, it can be very frustrating to find metal wires stacked in the suspension of a vehicle, as well as the wire could damage farmers' machineries while operating on their land.
#PremiumSkyLanterns fully comply with DEFRA's report " Industry Code of Practice - Sky Lanterns " published by Trading Standards Institute, in 2014 #TSI
IMPORTANT - Please note that
, with our deepest sadness and in order to
protect our customers, we have suspended the supply of all our product range (Night Sky Lanterns®) to Amazon, Ebay and other third-party platforms. These was as a consequence of finding 6 out of 10 test purchases of our branded sky lanterns sold on Amazon, resulted positive to asbestos test. In addition, 10 out 10 test purchases were unbranded sky lanterns sold by unscrupulous sellers, careless of the danger they pose to the public and the environment. Despite numerous attempts to inform Amazon and Ebay top management team, their legal team claimed to have the rights to continue using our brand name on their platform and totally disregarded our findings.
More info ...
Each Traditional Sky Lanterns is handmade and the dimensions may vary slightly.
The lantern size when unfolded in an oval shape is 70cm-28In Height and 40cm-16In wide.
Each transparent OPP bag contains:
1 x Traditional Sky Lanterns
1 x Cardboard wick / fuel cell
Instructions for use - How to launch sky lanterns:

Traditional Sky Lanterns are individually packed. Simply open the lantern, swing it in the air to unfold all sides. Lit the wick / fuel cell with a regular lighter and when you fell the lantern is pulling up, just release the pressure of your fingers and let it set free.
We would like to highlight that Traditional Chinese Sky Lanterns, like those used in this video, are made with metal wire to hold the wick / fuel cell to the bamboo ring. Please consider the possibility to use only sky lanterns made without metal wire, like Premium and Supreme Sky Lanterns.
Please Please Please! Help us to better safeguard the environment, wildlife and livestock. #GoPremium
PRODUCT DETAILS
Traditional Chinese Sky Lanterns
The photo below shows a Traditional Chinese Sky Lantern v7, unfolded and laid flat. To write a message on the lantern, only use dry permanent marker with a thick head. Do not use sharp pencils or pens and be careful not to rip the delicate paper while drawing.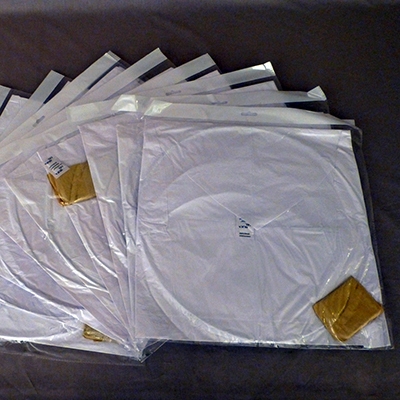 The wick / fuel cell is covered with a protective paper to avoid that the combustible migrates to the paper of the lantern. Please remove the protective paper and attach the wick / fuel cell in the middle of the cross, as shown below.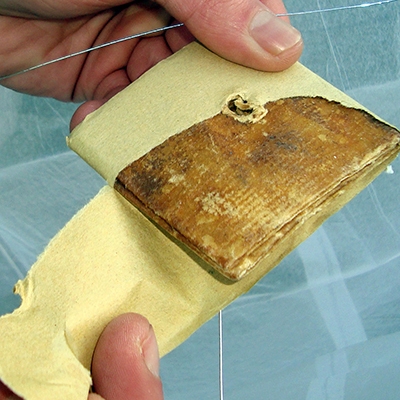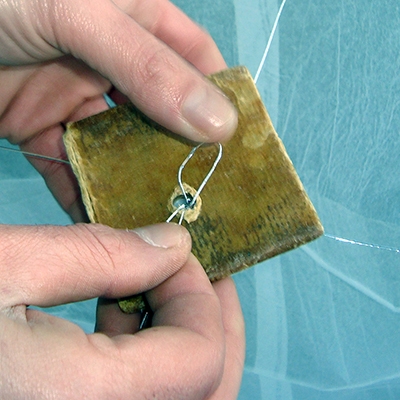 Lit the corners of the wick / fuel cell with a lighter and hold the lantern up-right until you feel that the it is pulling up. Gently, release the pressure of your fingers from the bamboo ring and the lantern will start flying away in to the sky. Please read the instruction and safety guidelines prior to use it.
Please read the Safety Guidelines and Instructions for use before using your Sky Lantern
SAFETY GUIDELINES
Do not launch in conditions that make lighting the lantern difficult, i.e. wind speeds above 8 Kmh / 5mph.
Do not launch a damaged lantern as this may be dangerous and cause injury.
Never launch in an area that could cause a fire such as near crops and hay bales etc.
Obstacles in the lanterns' path such as trees and buildings should be at least 30 meters away.
Do not release the lantern in an area where the glow could be mistaken for a distress signal. (Contact Coastguard)
Prior to use, ensure lanterns are stored in a dry and secure place away from children.
The lantern should not be left unattended at any time. Do not light or release a lantern wearing flammable clothing.
Never launch a lantern within 8 kilometres / 5 miles of an airport or airfield without permission from the CAA.
Launching a lantern in an inappropriate location or manner may cause damage to persons or property which may make you liable for criminal damage and prosecution.
Only responsible adults should use this product. Anyone under 16 should be supervised by a least one Adult
Store in a dry and cool place and keep it away from heat sources over 50ºC and sun light.
INSTRUCTIONS FOR USE
To facilitate the launch, it is preferable if one person holds the lanterns and another person lights the wick / fuel cell. Remove the lanterns from the packaging and gently swing in the air to unfold/open the lantern. Hold it upside down with the fuel cell at the top. Light two opposite corners of the fuel cell and allow the flame to spread across it.
Once the fuel cell is fully ignited, flip over your sky lantern so that the heat source starts to fill it up with hot air. Using both hands, gently hold the top and bottom of the lantern allowing the warm air from the flame to build up inside.
After around 30 seconds the Sky Lantern should begin to rise. Do not release the lantern too early. At this point keep holding the bamboo ring with both hands and only when you feel the lantern lifting on its own then let it free and enjoy watching fly in the sky while thinking of a wish.
Traditional Chinese Sky Lanterns v7 White - Pack of 20
Sky Lantern: Traditional Chinese v7

Materials: Fireproof Rice Paper 14 gm2, Bamboo Ring, Metal Wire and Cardbord Wick / Fuel Cell

Paper Colour: White

Lantern size unfolded: 45 D x 70 H cm (18 x 36 Inch)

Pack size: 42 W x 42 L x 10 H cm (16 x 16 x 3 Inch)

Pack Gross Weight: ± 1.6 Kg

Product Code: CSLV7W20
We are appealing to all responsible people who choose sky lanterns wisely, click on the link above and invite your friends and family to join us, before all sky lanterns are banned forever.
Many thanks to everyone for supporting our campaign!
Item Reviews & Comments
There are no reviews yet.